---
I've been a computer user ever since way back in 95, just before windows '95 came out. I started working with computers on Windows 3.1, and I got better at using computers via computer games that I liked to play. As I played more and more games, I encountered more and more problems that I had to learn how to fix. This got my computer literate very quickly. Since then I've learned a lot about computers and how they work, I've also created and ran my own websites, FTP server, and Winamp Skins.
Some notable things that I've done with computer are:

My first web page was The Techno Hut, which was founded on October 5th, 1998. It was a very simple page that looked more like an ugly power point project, than the beginning of a website. Ever since that date the Techno Hut has been slowly updated to eventually become the sleek site that it is today. Although it hasn't been updated in a while, the T Hut was still the website that I devoted the most time to, and I still consider it my greatest web achievement.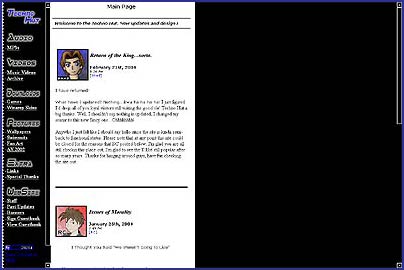 Techno Hut v4.5

I've created three Winamp skins for use with Nullsoft's Winamp media player. Two of these skins I've posted to the official winamp.com website under the animated category. My first skin has been downloaded over 100,000+ times from there website, and both have a 4.5 star rating (one of the highest you can get).